July 10, EcoWater water purifier EcoWater held the opening ceremony of the new plant, marking EcoWater development to a new level. EcoWater Since entering China, after the first 10 years of temper line and innovative breakthroughs, EcoWater equipment with its professional, with a stable product quality and quality after-sales service well received by the market, certainly, among the nation's market share front, the customer base is growing, year by year increase in production volume of business, the existing scale and production capacity has been unable to keep pace with market! EcoWater to further enhance the brand's technological advantages, overall competitiveness, expand production capacity, increased the investment in the Chinese market, expand the plant to 5 times the original area, and with the United States original import pipeline and world-class R & D laboratories, strengthening R & D strength and level.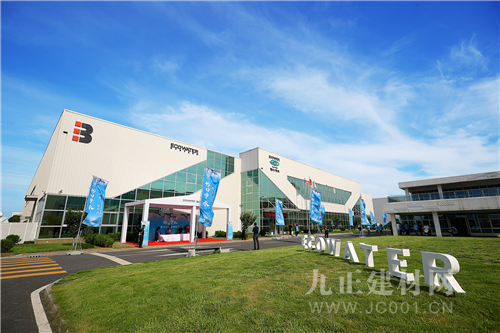 July 10, 2018 morning, after a year of careful preparation and renovation, EcoWater highly anticipated new factory opening ceremony in Kunshan City Plainvim modern industrial Park held a grand, American water Division headquarters Marmon Group president, Asia Pacific and China region management, as well as major companies Marmon Group executives are invited to witness EcoWater brand flourish, heritage and development prospects with the strength of the product and the industry's future! leading the relevant government authorities and trade associations have come to the scene, affirmed and encouraged EcoWater.
the opening ceremony of the new factory visit
9:30, EcoWater official opening of a new factory opening ceremony, EcoWater first brief speech on behalf of China , welcomed all the scene leaders, guests and dealers on behalf of the Group water division president Marmon, president, Asia Pacific as well as the higher authorities from the responsible persons took the floor expressed EcoWater future prosperity Changlong good wishes right. The leaders came together for the EcoWater opened a new plant opening ceremony started, the screen will instantly bloom shadow of the majestic momentum EcoWater performance of the best, bursting fireworks to start the ceremony drew to a successful close! After the ceremony is completed, guests also visited the EcoWater very large scale of the new plant, water purification equipment, research and development laboratories, brand exhibition center, logistics center, the presence of the visitors feel the distance EcoWater advanced and efficient product lines, strict quality management processes, and high-end research and development of experimental conditions. The site also ingenuity in organizing an interactive activity,So that visitors feel fresh and new;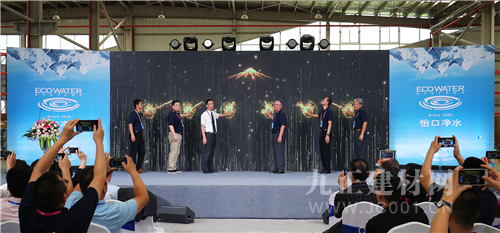 EcoWater new plant opening ceremony started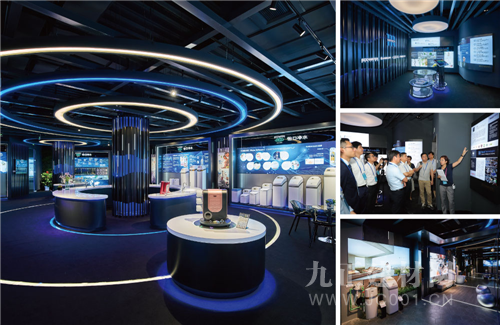 dealers to visit the EcoWater brand display hall
be dedicated to out area of ??more than 400 square meters of brand exhibition hall, with high-end modern style shows the Marmon Group, the most representative of the product line, including the brand Ecowater EcoWater prefilter, central water purification , central water softeners, drinking fountains and the latest development of the introduction of commercial water treatment products; Angelo Po and Prince Castle branded products as well as food processing Cornelius branded beverage machine. Ecowater brand running water demonstration area and core technology area, the Courtyard technology and life interlocking relationship vividly presented in front. "Yi Life" head-end corridor which takes the concept of healthy living water quality of life show. Round display EcoWater Systems to enjoy the quality of family life, healthy "clean-accompanied" high-end philosophy of life manifested from life than life. The ceremony, led by EcoWater show you a brand new look and share future plans and vision.
the quality of the letter Lai Zhuancheng future
In recent years, EcoWater As a leading brand with its high quality products and professional services, "China net water 10 strong foreign brand "," excellent brand influence Award "," national integrity of the quality benchmark for the typical enterprise "and other numerous awards and honors. Water is the source of life, EcoWater bound to the classical tradition, innovation and development, and create a better water purification business in the future, continue to play an influential industry, carry forward the spirit of craftsmen. The relocation of the plant expansion, additional investment in research and other initiatives, are passing out EcoWater will be a higher standard developed determination on behalf of the industry's highest quality products, so that consumers have more confidence, we are committed to bringing high quality Chinese families Yee life experience.
EcoWater Background:
ECOWATER US EcoWater is Marmon Water / Berkshire Hathaway subsidiary companies, ? Warren Buffett (Warren Buffett) a subsidiary of Berkshire Hathaway (Berkshire Hathaway) publicDivision in 2018 among the "Fortune" 500 US ranking No. 3 and 2018 World's Most Admired Companies list No. 4. In 1925, the United States EcoWater born, invented and patented the household automatic water softeners, headquartered in Minnesota, the state capital of St. Paul (St. Paul) City, now has 11 global production bases and sales companies, four research and development Center, will deliver high-quality water purification products to North America, Europe, Asia-Pacific and other regions, leading the high-end water purifier market. For 93 years, EcoWater has always focused on innovation and R & D in the field of household water treatment, bring to high "water" quasi-healthy life for every family.
M armon Group Background
Marmon Group was established in 1953, under the charge of Buffett's Berkshire Hathaway (Berkshire Hathaway). 2018 "Fortune" 500 in the United States, Berkshire Hathaway ranked No. 3 ranking, "Global Most Admired Companies 2018 list," the first four. Strong heritage combined with the growing strength, so Berkshire Hathaway Marmon with the powerful combination of a strong financial position and the huge financing makes Marmon through acquisitions and internal investment in strategies to achieve EcoWater effective strategic brand growth . Today, thanks to stable business strategy, Marmon Group, the world has about 19,000 employees and operations in more than 20 countries. It owns three companies, 16 business units, 175 independent business unit, approximately 400 production bases and marketing services company, brought a high quality of life experience for the global market.